Welcome to Bear Roots School of Plant Medicine!
Bear Roots Forest is located in the beautiful Belleisle Bay area of the Kingston Peninsula in New Brunswick, Canada.  On this magical land, we grow medicinal herbs and offer workshops, courses and programs that teach people about the amazing nutritional and medicinal benefits of the plants that grow around them.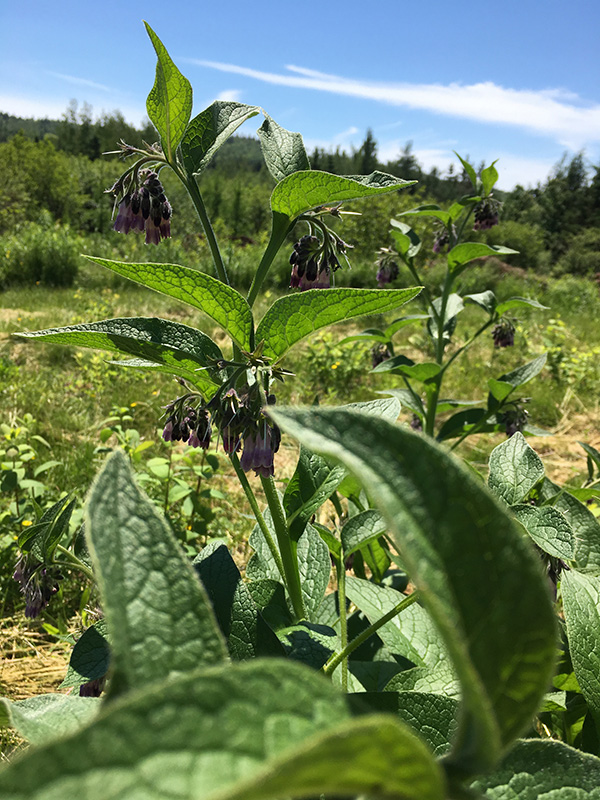 Tatum Andrews & Rob Carson are the owners & farmers of Bear Roots Forest.
Tatum Andrews is the farmer and co-owner of Bear Roots Forest, which is primarily a medicinal herb farm where fruits and veggies are also grown using permaculture, biodynamic and regenerative growing practices.  Tatum is also the founder and primary teacher of the Bear Roots School of Plant Medicine which offers various educational programs based on herbalism, nutrition and nature.
She graduated from NSCC from the Business Administration program with a concentration in Accounting; she then became a CGA and spent over 10 years working in this field with companies who focused on manufacturing natural health products.  When her son was diagnosed with Type 1 Diabetes, she decided it was time to study holistic nutrition so she could better understand its role in overall health.  She attended the Canadian School of Natural Nutrition where she graduated as a Registered Holistic Nutritional Consultant.  This program sparked her interest in herbalism, so she then took and graduated from the Chartered Herbalist program offered through the Dominion Herbal College.  To gain more knowledge in herbalism she took the Community Herbalist program with Gail Faith Edwards, as well as various courses from Susun Weed, Paul Bergner, Don Ollsin, Cat Lane and others.  She is currently completing courses at the Wild Rose College. 
Tatum is one of the founding members of the Herbalist Association of New Brunswick.
Spending time among the plants on the magical land of Bear Roots Forest is where she can be found when not teaching people about the many nutritional and medicinal benefits of the plants that are growing around them.   
Rob Carson is a chef by trade and his passion is creating delicious farm-to-table dishes and experiences.  He earned his Permaculture Design Certificate from Geoff Lawton.  Currently, he is studying biodymanics and applying those practices to the farm as well as teach others about this wonderful way to work with the earths rhythms to produce amazing herbs, veggies and fruit.